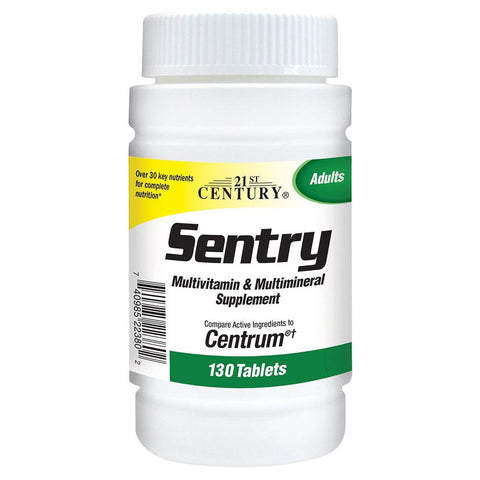 Care N Cure Pharmacy
21St Century Sentry Multivitamin Tablet 130'S
21st Century Sentry is the complete multivitamin & multi-mineral formula with the recommended daily intake. Support yourself and your family with the best, 21st Century Sentry, featuring the complete antioxidant group.
Directions for Use:
As a dietary supplement, adults take one (1) tablet daily with any meal or as directed by their healthcare provider. Do not exceed recommended dosage. Individual results may vary.
Ingredients:
Supplement Facts Serving Size 1 Tablet
Amount Per Serving
% Daily Value
Vitamin A (Acetate, 29% as Beta-Carotene)
1,050 mcg
117%
Vitamin C (as Ascorbic Acid)
60 mg
67%
Vitamin D3 (as Cholecalciferol)
25 mcg
(1,000 IU)
125%
Vitamin E (as dl-alpha Tocopheryl Acetate)
13.5 mg
90%
Vitamin K (as Phytonadione)
25 mcg
21%
Thiamin (as Thiamin Mononitrate, B-1)
1.5 mg
125%
Riboflavin (Vitamin B-2)
1.7 mg
131%
Niacin (as Niacinamide)
20 mg
125%
Vitamin B-6 (as Pyridoxine HCI)
2 mg
118%
Folate
667 mcg DFE
(400 mcg Folic Acid)
167%
Vitamin B-12 (as Cyanocobalamin)
6 mcg
250%
Biotin
30 mcg
100%
Pantothenic Acid (as d-Calcium Pantothenate)
10 mg
200%
Calcium (as Dicalcium Phosphate & Carbonate)
200 mg
15%
Iron (as Ferrous Fumarate)
18 mg
100%
Phosphorus (as Dicalcium Phosphate)
20 mg
2%
Iodine (as Potassium Iodide)
150 mcg
100%
Magnesium (as Magnesium Oxide)
50 mg
12%
Zinc (as Zinc Oxide)
11 mg
100%
Selenium (as Sodium Selenate)
55 mcg
100%
Copper (as Copper Sulfate)
0.5 mg
56%
Manganese (as Manganese Sulfate)
2.3 mg
100%
Chromium (as Chromium Picolinate)
35 mcg
100%
Molybdenum (as Sodium Molybdate)
45 mcg
100%
Chloride (as Potassium Chloride)
72 mg
3%
Potassium (as Potassium Chloride)
80 mg
2%
Cellulose, Starch, Stearic Acid, Vegetable Oil.
Contains <2% of Artificial Color (FD&C Yellow #6), Ascorbyl Palmitate, BHA, BHT, Croscarmellose Sodium, dl-Alpha Tocopherol, Ethylcellulose, Gelatin, Gum Arabic, Magnesium Silicate, Magnesium Stearate, Maltodextrin, Mannitol, Mono/Diglycerides, PEG/PVA Copolymer, Polyvinyl Alcohol, Silicon Dioxide, Sodium Aluminosilicate, Sucrose, Titanium Dioxide, Water.

No added Yeast or Artificial Flavors. Gluten-Free.