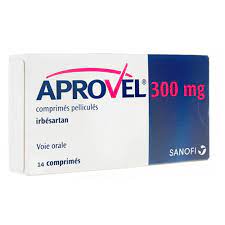 Suffolk International Medicals
Aprovel 300Mg Tablet 28'S
Irbesartan is an angiotensin II receptor blocker (ARB) indicated for: 
Treatment of hypertension, to lower blood pressure.
Lowering blood pressure reduces the risk of fatal and nonfatal cardiovascular events, primarily strokes and myocardial infarctions.
Treatment of diabetic nephropathy in hypertensive patients with type 2 diabetes,
an elevated serum creatinine, and proteinuria.