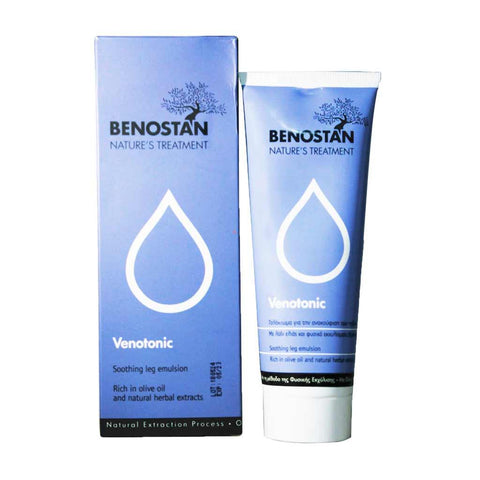 Care N Cure Pharmacy
Benostan Ventonic Soothing Leg Balm 125 ML
Herbal emulsion for the venous and circulatory problems of the lower limbs. The Venotonic emulsion, known for its refreshing and refreshing action, helps to improve blood circulation in the lower limbs, reduces swelling of the ankles and relieves the sensation of pain and pain caused by varicose veins, venous insufficiency and spider veins. It is a combination of extracts of extra virgin, sage and olive oil, with anti-oedematous, decongestant and anti-inflammatory action.
Directions for Use:
The product is applied on whole leg surface, but especially on the suffering areas. Application requires a downwards to upwards gentle massaging until the product is absorbed. The relief is immediate; furthermore the legs' skin itself becomes smooth and supple.
Apply when needed throughout the day.
External Use in intact skin.