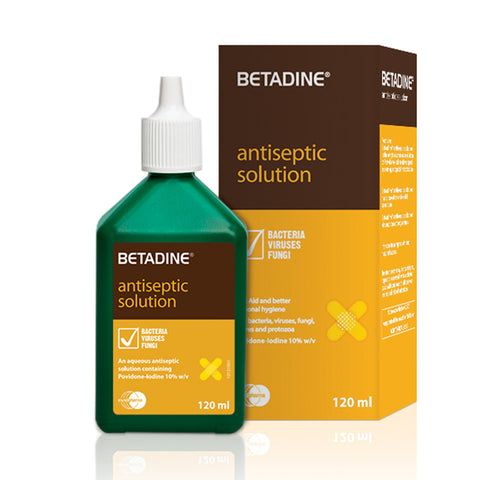 Ahmed Khalil Al Baker
Betadine Antiseptic Solution 120ML
BETADINE Antiseptic Solution is indicated for degerming skin, wounds, and mucous membranes in:
Preoperative preparation of the skin and mucous membranes.
Post-operative surgical wound infection.
Casualty procedures, including prevention of infection in burns, lacerations, and abrasions.
Treatment of various bacterial, viral, protozoal, and mycotic skin infections, including tinea, oral thrush, impetigo, and herpes simplex, and zoster infections.
For hygienic and surgical disinfection of the hands.
Dosage & Administration
Route of administration: Topical.
Adults, the elderly, and children: Apply full strength as a preoperative antiseptic skin cleanser. Avoid pooling both under the patient and in the skin folds. Wash off excess solution before using occlusive dressings.
Povidone-iodine is not recommended for regular use in neonates and is contraindicated in very low birth weight infants (below 1500 grams). Spread the solution, undiluted, onto the parts to be treated. After drying, an air-permeable film is formed, which can be easily washed off with water. The solution can be applied several times a day.
For disinfection of the hands the procedure is as follows:
1) Hygienic disinfection of the hands: 3m1 undiluted - allow to work in for one minute.
2) Surgical disinfection: 2x5ml undiluted - allow working in 5 minutes.
For disinfection of the skin the procedure is as follows:
1) Application on the skin with few sebaceous glands
Before injections, punctures, and surgical operations, allow the solution to act for at least 1 minute.
2) Application on the skin with many sebaceous glands
Before all operations allow the solution to act for at least 10 minutes, keeping the skin constantly moist.
In the disinfection of the skin before operations, avoid the formation of pools of the solution under the patient's body (because of possible irritation of the skin).
BETADINE Antiseptic Solution can be used diluted for rinsing and washing. For different uses, dilutions are recommended. You may ask your doctor or your pharmacist about these. If there is no improvement of the symptoms after several days (2-5 days) of regular application, you should consult your doctor.