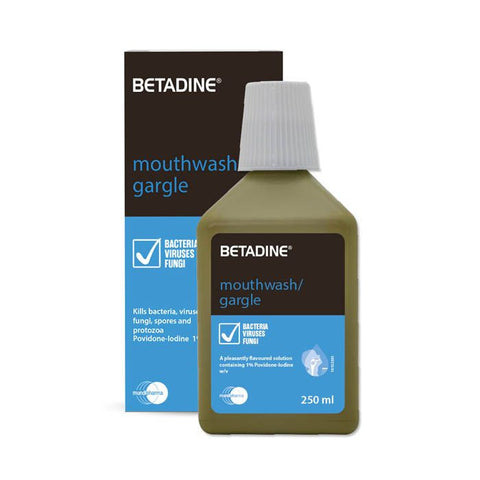 Ahmed Khalil Al Baker
Betadine Mouthwash & Gargle - 250 ML
Provides effective relief of sore throat
Kills 99.99% of the most common cold and sore throat viruses, bacteria, and fungi
Rapid Virucidal, Fungicidal and effective against all streptococcal organisms and may be used in the treatment of streptococcal tonsillitis and sore throat
Adjunct treatment of infected inflammatory conditions of the mouth and pharynx including stomatitis, gingivitis, aphthous ulcers, pharyngitis, tonsillitis, monilial infections, common cold, and influenza
The antiviral efficacy of Betadine mouthwash/gargle is helpful for the implementation of Oropharyngeal hygiene management in people exposed to respiratory viruses
Dosage & Administration
Route of administration: For local use only.
Use undiluted or diluted with two parts of water.
For prophylactic use, the solution should be allowed to act in the mouth for a minimum of 30 seconds, repeat up to four times a day if needed.
With existing lesions, the mouth should be rinsed with the solution for two (2) minutes, up to four times a day, especially after meals.
The usual period of treatment (unless otherwise advised by your doctor) could last for about 14 days.
If there is no improvement of the symptoms after 2 to 5 days of regular use of the product, consult your doctor
Not to be used in children under 6 years of age.
Side effects:
Rarely, hypersensitive skin reactions may occur (e.g. delayed contact-allergic reactions, which can appear in the form of itching, redness, small blisters or similar manifestations). Involvement of other organs has been reported in isolated cases.
In single cases acute, generalized, allergic reactions with drop in blood pressure and/or shortness of breath (anaphylactic reactions) have been reported.
If you experience any of the above side effects or any other unusual effects, stop using the product and consult your doctor.
Precautions:
Povidone-lodine should not cover for a long period large areas of the skin (e.g., not to more than 10% of the total body surface and for not longer than 14 days) unless strictly indicated. Even after the end of the treatment (up to 3 months), one should look for the early symptoms of possible hyperthyroidism and if necessary the thyroid function should be monitored.
Special caution is needed when regular applications to broken skin are made to patients with pre-existing renal insufficiency.
For mouthwash/gargle only. In instances of local irritation or sensitivity discontinue use.