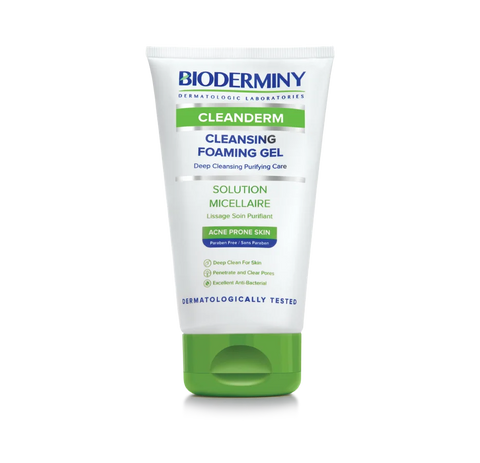 Suffolk International Medicals
Bioderminy Cleanderm Cleansing & Foaming Gel - 150Ml
PRODUCT BENEFITS 
Foaming cleanser specifically formulated for acne prone skin.
With herbal contents  cleanses and purifies skin.
Removes dirt, oil and complexion-dulling impurities.
Provides deap cleaning.
WHY BIODERMINY?
Non Comedogenic
Paraben Free
Contain Herbal Ingredients
IMPACT MECHANISM
Salicylic acid; has comedolitic and anti-inflammatory effects and improves the penetration of other agents. It has drying effect on active acne lesions
Nordihydroguaiaretic Acid ; Cell growth regulator that inhibits hyperkeratosis and inflammation
Oleanolic Acid; Inhibits 5-α reductase to fight hyperseborrhoea
HOW TO USE
Gently massage a small amount of cleanser onto dampened face.
Rinse thoroughly with warm water.
Use twice daily.