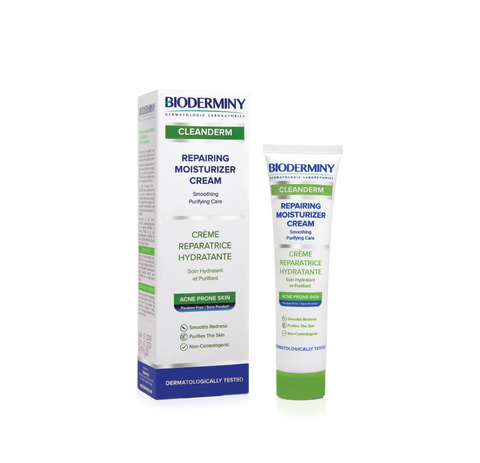 Suffolk International Medicals
Bioderminy Cleanderm Repairing Cream - 30Ml
CLEANDERM
REPAIRING MOISTURIZER CREAM
Acne prone skin
PRODUCT BENEFITS
Provides optimal hydration for skin through its special oil-balancing system without undesirable shine .
Helps to neutralise-bacteria responsible for inflammation.

Soothe redness and purifies the skin
Non–comedogenic.
Very light texture, no sticky feeling
WHY BIODERMINY?
Non Comedogenic
Paraben Free
Contain Herbal Ingredients
IMPACT MECHANISM
Salicylic acid; has comedolitic and anti-inflammatory effects and improves the penetration of other agents. It has drying effect on active acne lesions
Nordihydroguaiaretic acid ; Cell growth regulator that inhibits hyperkeratosis and inflammation
Oleanolic acid; Inhibits 5-α reductase to fight hyperseborrhoea
Avocado Oil and Panthenol; hydrates and soothes the skin with non-comedogenic properties
HOW TO USE
Massage a small amount of the refining cream into the entire face, avoiding the eye area.
Allow to dry naturally.