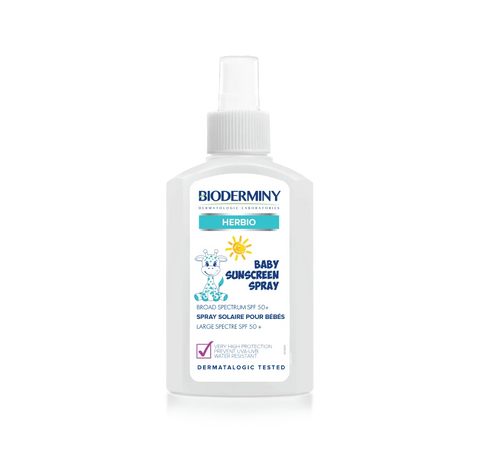 Suffolk International Medicals
Bioderminy Herbio Baby Sun Screen Spray (Spf 50+) - 150Ml
HERBIO
BABY SUNSCREEN
USAGE AREA
For All Skin Types
PRODUCT BENEFITS
Sun Screen Spray has been specially designed to protect the delicate skin of babies and children.
It protects the sensitive skins of babies and children with SPF 50+ which guarantees very high UVA/UVB protection against the harmful effects of the sun.
It helps to strengthen natural protection system of child skin. Hypoallergenic, unscented and water-resistant.
Hypoallergenic, unscented and water-resistant.
WHY BIODERMINY?
VERY HIGH PROTECTION
PREVENT UVA-UVB WATER RESISTANT
IMPACT MECHANISM
Titanium Dioxide: Physical UVB Filter
Zinc oxide and titanium dioxide provide strong protection against UVA and UVB ultraviolet radiatio
Aqua:  intensively moisturizes and makes it possible for moisture to be stored long-term
HOW TO USE
Children aged under 3 should not be exposed to direct sunlight.
Apply the sunscreen product 15 minutes before sun exposure.
Re-apply frequently and generously to maintain protection, especially after swimming, perspiring or toweling.