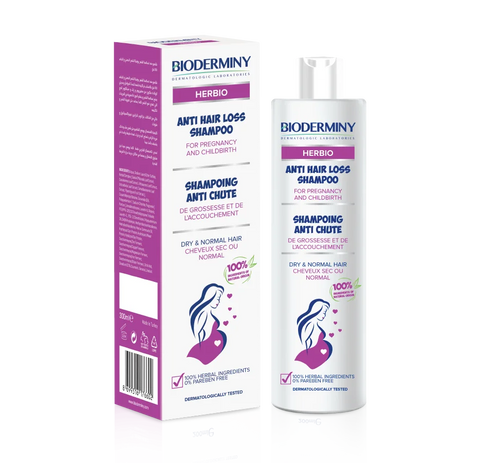 Suffolk International Medicals
Bioderminy Herbio Anti Hair Fall Shampoo (Dry & Normal Hair) - 300Ml
HERBIO
ANTI HAIR LOSS HAMPOO
Increases skin tolerance and reduces skin sensitivity.
USAGE AREA
For Dry And Normal Hair
PRODUCT BENEFITS
Bioderminy Anti Hair Loss Shampoo for Dry & Normal Hair is herbal shampoo with a formula especially developed for women experiencing hair loss problems in during & after pregnancy .
Combination of Magnesium, Iron and Silicium prevents hair loss, regulates blood circulation in hair follicles and supports the hair growth.
In regular use the shampoo helps to increase hair resilience and thickness by strengthening the hair follicles.
Hypoallergenic, unscented and water-resistant.
100% ingredients of natural origin
WHY BIODERMINY?
0% PARABENS, PHTHALATES, PHENOXYETHANOL, PETROLATUM AND COLORANT
IMPACT MECHANISM
Salvia Officinalis Leaf Extract: not only helps prevent hair loss, but it also rejuvenates and strengthens the hair follicles.
Cassia Senna Leaf Extract :provides shining to the hair but also in strengthening and thickening your hair
Urtica Urens Leaf Extract :stimulates hair growth and promote healthier, thicker hair strands.
Camellia sinensis leaf extract for hair: helps to stimulate blood circulation, improving hair growth, and acts as a humectant to help moisturize and condition the hair and scalp.
Pipernigrum Fruit Extract :equates to outstanding hair growth and dandruff-fighting properties.
HOW TO USE
Apply Bioderminy Shampoo to wet hair, gently massage to the scalp with finger tips for 1 minute and rinse well.