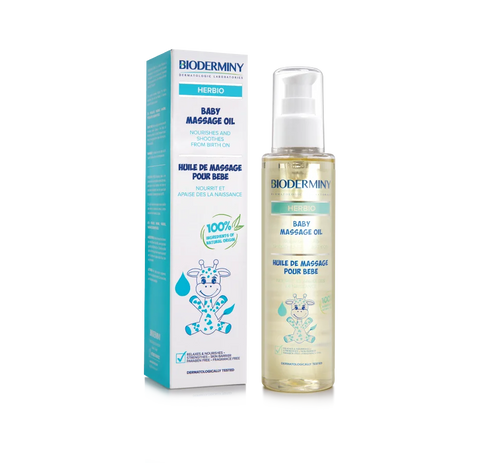 Suffolk International Medicals
Bioderminy Herbio Baby Massage Oil - 150Ml
HERBIO
BABY MASSAGE OIL
USAGE AREA
For All Skin Types
PRODUCT BENEFITS
Bioderminy Baby Massage Oil has been specially formulated 100% natural for use from birth on.
This soothing oil helps strengthen the skin barrier thanks to nourishing herbal oils rich in essential fatty acids.
Bioderminy Herbio Baby Massage Oil enriched with 100% herbal oils which locks in moisture to leave baby's skin soft and smooth.
It melts perfectly into baby's skin, leaving a layer of non-greasy, non-sticky softness.
WHY BIODERMINY?
0% PARABENS, PHTHALATES, PHENOXYETHANOL AND FRAGRANCE
IMPACT MECHANISM
Bisabolol :   may help to soothe irritated skin, acts as a potent antioxidant.
Helianthus Annuus ( Sunflower ) Seed Oil:  improving skin hydration and providing antioxidant protection.
Olea europaea fruit oil : contains large amounts of antioxidant, vitamin and fatty acids making it particularly nourishing and moisturising for those with skin that is prone to dryness.
Persea gratissima (avocado oil): is an excellent source of skin-replenishing fatty acids, including omega-3 linolenic acid, omega-6 linoleic acid, oleic acid, and beta sitosterol.
Sesame oil: contains vitamin E, which can help protect skin cells from the damage caused by environmental factors, such as UV rays, pollution, and toxins.
HOW TO USE
After the bath, warm the Bioderminy Baby Massage Oil in your palm.
Lightly massage onto your baby skin.