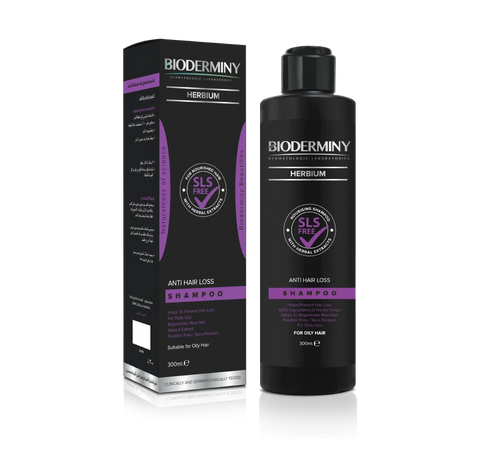 PharmaCare Online
Bioderminy Herbium Anti Hair Loss Shampoo (Oily Hair) - 300Ml
HERBIUM SHAMPOO
FOR OILY HAIR
USAGE AREA
Hair and scalp
PRODUCT BENEFITS
Vitamine A and Flavanoids assist to control the sebum accumulation inside the hair scalp.
Improves circulation in the scalp & minimizes pore size for hair loss, flakes & shedding
Honey ingredient treats and helps regulating excessive oiliness
It calms itchiness and provides good looking healthy hair and scalp.
Provides vitality, shine and volume to hair.
WHY BIODERMINY?
SLS Free
Paraben Free
Herbal Ingredients
IMPACT MECHANISM
Strengthens hair and helps to prevent hair loss
HOW TO USE
Apply BIODERMINY Herbium Shampoo to wet hair, gently massage the scalp with finger tips for 1 minute and rinse well.
It is recomended to use BIODERMINY Herbium Shampoo daily on a regular basis
To get earlier and better results use BIODERMINY Herbium Conditioner and BIODERMINY Herbium Serum Concentrate in combination.