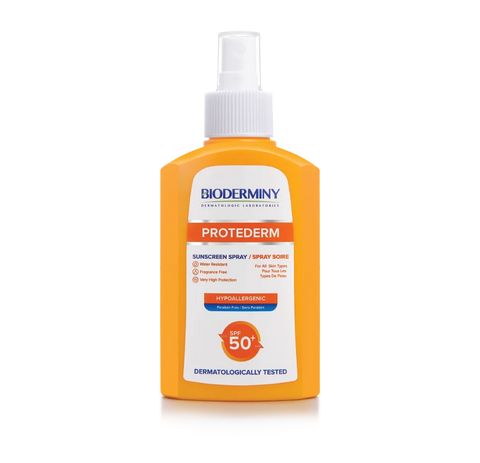 Suffolk International Medicals
Bioderminy Protederm Sun Screen Spray (Spf 50+) - 150Ml
PROTEDERM
SUNSCREEN SPRAY SPF 50+
Sun Protector
USAGE AREA
For All Skin Types
PRODUCT BENEFITS
Very high UVA and UVB protection- Anti redness
SPF 50 +
Spreads easily on the skin, leaving a non oily, invisible film.
Does not contain PARABEN, hypoallergenic
Moisturizing and Hydrating Effect
Very light texture, no sticky feeling
Gives the skin a feeling of comfort and extreme softness.
For All skin types
WHY BIODERMINY?
Paraben free
Fragrance free
IMPACT MECHANISM
PROTEDERM sunscreen products with a full basket of different sun care products for different skins give considerable protection against UVA and UVB rays
HOW TO USE
Apply smoothly and generously before sun exposure.
Reapply frequently and always during and after exercising under the sun light, particularly swimming