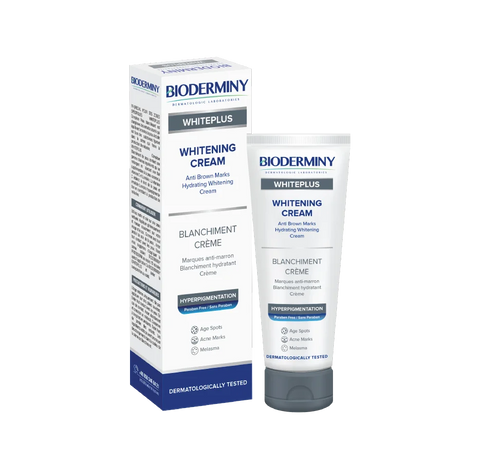 Suffolk International Medicals
Bioderminy Whiteplus Whitening Cream - 30Ml
WHITEPLUS
WHITENING CREAM
Skin Brightener
USAGE AREA
For All Skin Types
PRODUCT BENEFITS
Provides youthful look of skin thanks to its rich and luxurious texture.
Helps to gradually fade skin discolorations caused by age spots, freckles, liver spots and naturally darker area.
Help to reduces the appearance of fine lines and wrinkles.
Smoothes and brightens.
Evens skin tone.
WHY BIODERMINY?
Paraben Free
Alcohol Free
Fragrance Free
IMPACT MECHANISM
Arbutin; by reducing the production of melanin, provides more spotless and bright skin. It prevents sun and acne spots, therefore used as a skin-lightening agent.
Lumiskin; Is a solution of diacetyl-boldine and caprylic/capric triglycerides that inhibit the activity of tyrosinase. It is used for its skin lightening properties.
Vitamin C; Inhibits activity of tyrosinase, prevent synthesis of melanin and increases synthesis of collagen, improves skin tone
HOW TO USE
Use morning and night on cleansed skin.
Apply generously and gently massage onto your face and neck.
It is recommended to use sunscreen cream before the sun.