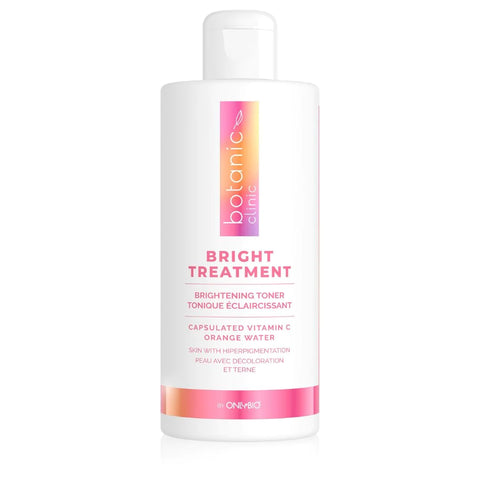 Zein Pharma
Botanic Clinic Bright Brightening Toner - 300Ml
To restore your complexion to its natural, healthy glow, use regularly the Brightening Tonic from Botanic Clinic. It refreshes and cleanses the skin, preparing it well for further skin care treatments. It regulates the pH level and thus cares for the microbiome, i.e. the natural protective layer of the skin. Thanks to orange water and vitamin C, known as the vitamin of youth, the face becomes radiant and its colour is even.
Bright toner is a dermocosmetic, which was created using the most modern solutions in the world of dermatology. The vitamin C it contains has been encapsulated. This makes it possible to maximise its beneficial properties. By reaching the deep layers of the skin, where it is slowly released, it can act exceptionally effectively and precisely. The product formula is vegan and rich in up to 98% ingredients of natural origin.
Key Active ingredients:
- Vitamin C inhibits the synthesis of melanin, a natural pigment, lightening hyperpigmentation and preventing the formation of new ones. It is also a powerful antioxidant that fights free radicals responsible for accelerated skin ageing.
- Orange Water tones, moisturises and brightens the complexion. It gently cleanses and prepares the skin for further skincare treatments.
Who is the Brightening toner recommended for?
- Everyone whose skin is grey, tired and discoloured.
- People who want to balance the pH of their skin and additionally lighten it and prepare it for further care.
- People who want their skin to be full of natural radiance, fresh and smooth.
- Vegans and vegetarians, but not only!
Directions of use:
Using a cotton pad, apply the toner to a cleansed face and neck, avoiding the sensitive eye area. Use regularly after every face wash and before applying skincare products.