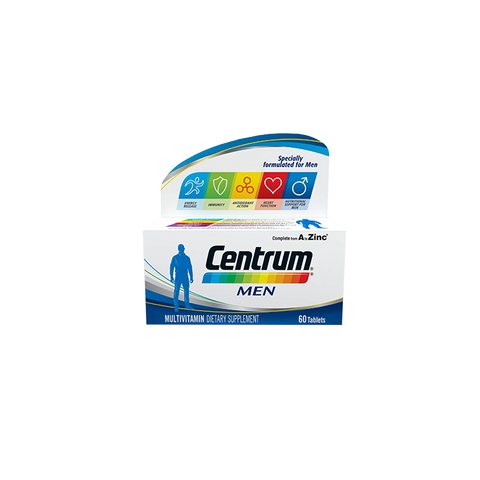 Suffolk International Medicals
Centrum Multivitamin For Men Tablet 60'S
Men have different nutritional needs to women, so Centrum has used its expertise to develop Centrum Men.  This formula is specifically developed to help support the nutritional needs of men. 
Centrum Men has been developed with Micronutrients to specifically support men's health and wellbeing.
Since men have higher requirements for some nutrients compared to women, the nutrient levels have been adjusted in Centrum Men to help support their health and wellbeing. Centrum Men contains vitamins B6 & B12 which support normal energy-yielding metabolism while magnesium contributes to maintaining normal muscle function.
Free from sugar, gluten & lactose
Directions for Use:
For adults, take 1 tablet per day with water.
Do not exceed recommended daily dose
VITAMINS
Total Retinol 290 mcg
Equivalent to Beta-Carotene- a source of
Vitamin A 2900 IU
Vitamin E (as acetate) 10 IU
Vitamin C (ascorbic acid) 45 mg
Folic acid 200 mcg
Vitamin B1 (thiamine mononitrate) 1.2 mg
Vitamin B2 (riboflavin) 1.3 mg
Niacinamide 16 mg
Vitamin B6 (pyridoxine hydrochloride) 1.3 mg
Vitamin B12 (cyanocobalamin) 2.4 mcg
Vitamin D3 (cholicalciferol) 200 IU
Biotin 30 mcg
Pantothenic acid (calcium pantothenate) 5 mg
Vitamin K1 (phytonadione) 30 mcg
MINERALS
Calcium (Calcium carbonate and calcium
phosphate dibasic) 250 mg
Iodine (Potassium iodide) 33 mcg
Iron (Ferrous fumarate) 3.5 mg
Magnesium (magnesium oxide) 120 mg
Copper (cupric sulfate) 0.45 mg
Manganese (manganese sulfate) 1.8 mg
Chromium (chromium picolinate) 25 mcg
Molybdenum (sodium molybdate) 23 mcg
Selenium (sodium selenate) 20 mcg
Zinc (zinc oxide) 7 mg
Store at room temperature
15 - 30˚C.