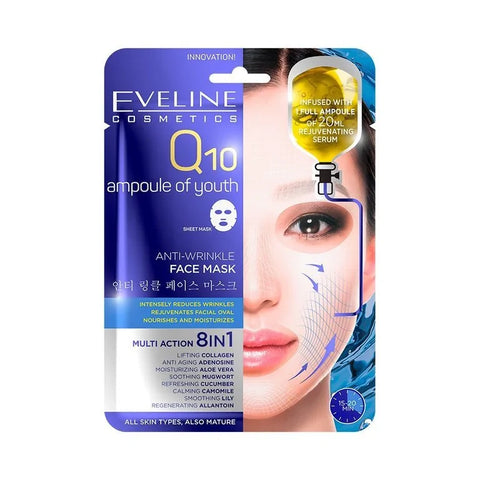 Pharmacareqatar
Eveline Face Mask Q10 Anti Wrinkle
Q10 Youth Ampoule Sheet Mask that smoothes wrinkles and rejuvenates. For all skin types, also mature.
ANTI-WRINKLE SHEET MASK, soaked in 20ml of rejuvenating serum, effectively improves skin firmness, regenerates, smoothes and reduces wrinkles. The mask increases skin tension and density, intensely moisturizes and revitalizes.
Revolutionary Asian formula based on SANG – SA FUSION advanced formula, inspired by the Korean rituals of beauty. Within a few minutes restores the highest level of nourishment, firmness and radiance. The treatment leaves the skin naturally illuminated, rejuvenated and silky soft.
Directions for Use:
STEP 1: Apply the mask carefully onto the cleansed face and press lightly.
STEP 2: Leave on the skin for 15-20 minutes, then remove.
STEP 3: Gently pat the remaining product or remove with a cotton pad.