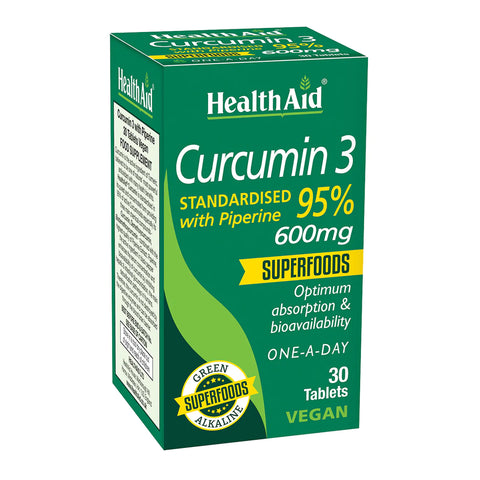 Pharmacareqatar
Health Aid Curcumin 3 600Mg Vegan Tablet 30'S
Curcumin is the active ingredient of Turmeric, believed to be one of nature's most powerful antioxidants with many health benefits. HealthAid® Curcumin 3 is sourced from India and is standardized in its purest and most concentrated form, providing 95% of active curcuminoids.  Its three main chemical compounds, Curcumin, demethoxycurcumin, and Bisdemethoxycurcumin, have been combined with the highest quality of Piperine extract.
Piperine is the active ingredient in black pepper. Peperine enhances the serum concentration and bioavailability of curcumin by inhibiting hepatic and intestinal glucuronidation, which are the main detoxification pathways in the body. Therefore, curcumin is not destroyed by the digestive enzymes and can be absorbed through the blood-brain barrier. 
Directions for Use:
Adults and children over 12 years of age: one tablet daily. Do not exceed recommended daily intake, unless or as advised by a suitably qualified person.