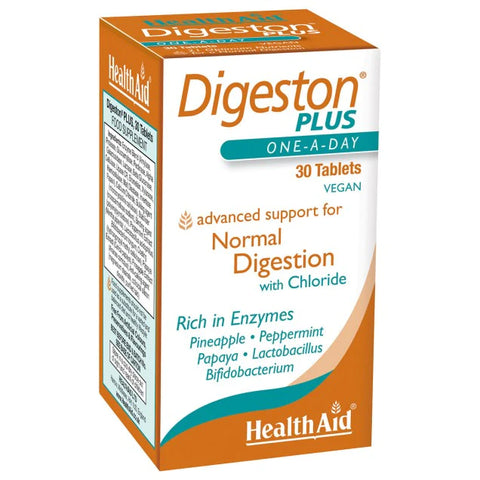 Pharmacareqatar
Health Aid Digeston Plus Tablet 30'S
Digeston Plus is a unique blend of purely vegan digestive enzymes combined with fruit extracts such as pineapple and papaya, which are well known for their naturally occurring digestive enzymes and their function in the breakdown of food. The formula is boosted with a superior blend of 600 million viable bacterial strains of Lactobacillus and Bifidobacterium to help replenish the body's good bacteria. Last but not least, the formulation contains chloride in the form of Calcium chloride which is proven to contribute to healthy digestion. Digeston Plus tablets with vegan enzymes, fruit extracts, friendly bacteria, and chloride, all in a one-a-day tablet offer you digestive comfort and intestinal balance! Suitable for vegans and vegetarians.
Directions for Use:
Adults and children over 12 years of age, one tablet daily with meals. Do not exceed recommended daily intake unless advised by a suitably qualified person.
Ingredients:
Each Digeston® Plus Tablet Contains (Average):
Chloride (providing 15% of RDA)

120 mg*

  Enzyme Blend
310mg*

Papaya Extract

10 mg*

  Consists of :

Pineapple Extract

10 mg*

  Amylase

20,000DU*

Peppermint Extract

20 mg*

  Protease

50,000HUT*

Lactobacillus acidophilus
(**300 million colony-forming units)

15 mg*

  Glucoamylase

45AGU*

Bifidobacterium longum
(**300 million colony-forming units)

15 mg*

  Pectinase

50endo-PGU*

 

  Alpha Galactosidase

225GalU*

  Lactase

1000ALU*

  Beta Glucanase

30BGU*

  Cellulase

1000CU*

  Lipase CR

1000FIP*

  Bromelain

125,000FCCPU*

  Xylanase

600XU*

  Hemicellulase

400HCU*

  Malt Diastase

200DP*

  Invertase

203SU*

  Papain

16000FCCPU*

**The stated enzyme blend and the bacterial count were incorporated at the time of manufacture. Due to the unstable nature of the organisms, the live count may vary depending on storage conditions.

*: EC Nutrient Reference Value Not Yet Established

Enzyme Blend (Amylase, Protease, Glucoamylase, Pectinase, Alpha Galactosidase, Lactase, Beta-Glucanase, Cellulase, Lipase CR, Bromelain, Xylanase, Hemicellulase, Malt Diastase, Invertase, Papain), Calcium Chloride, Bulking agent (microcrystalline cellulose), Stabiliser (crosscarmellose sodium), Binding agent(polyvinylpyrrolidone), Lactobacillus acidophilus, Bifidobacterium longum, Coating (hydroxypropyl methyl cellulose),Anti-caking agent (magnesium stearate, colloidal silicon dioxide, purified talc).