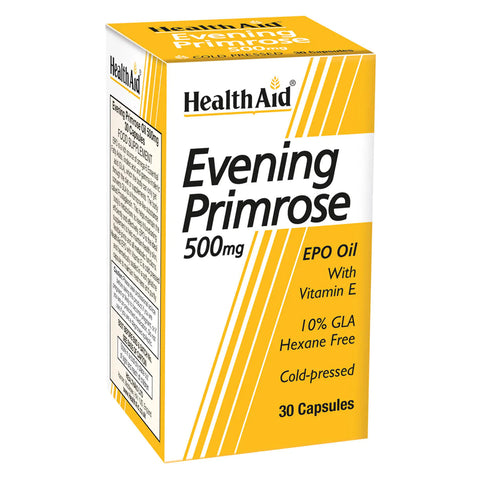 Pharmacareqatar
Health Aid Evening Primrose Oil 500Mg + Vitamin E
Evening Primrose Oil (EPO) is a rich source of Omega-6 Essential Fatty Acids, Linoleic acid and Gamma-linolenic acid (GLA), which the body can only get through diet or supplements. The body converts GLA to a hormone-like substance called Prostaglandin. This contributes to the maintenance of normal body metabolism, to keep it functioning efficiently and effectively. EPO is the ideal supplement that contributes to the maintenance of healthy skin, flexible joints and all metabolic functions. HealthAid EPO with vitamin E is cold pressed and hermetically sealed in soft vegetarian capsules to maintain freshness and purity.
Directions for Use:

Adults and children over 6 years of age, one to two capsules daily. Adults can increase up to eight capsules daily if required.
For children, capsules can be pierced and the contents taken orally or rubbed onto the skin.
Do not exceed recommended daily intake unless advised by a suitably qualified person.