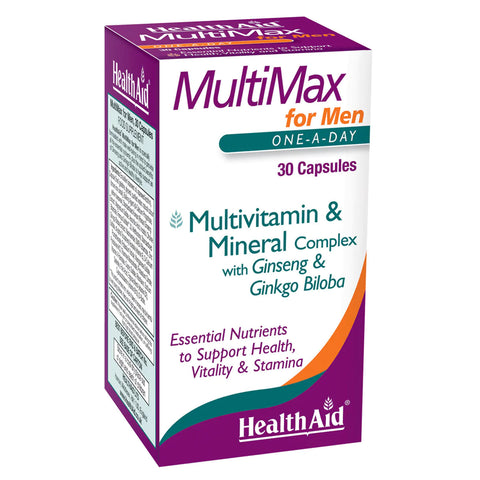 Pharmacareqatar
Health Aid Multimax For Men Capsule 30'S
HealthAid MultiMax for Men capsules provide a complete vitamin and mineral formulation; ideal for supporting optimum male health. We rarely manage to achieve the recommended daily intake of all essential nutrients, even if we think that we have healthy diets. MultiMax for Men can ensure that the recommended levels of nutrients for good health are met and safeguard against any nutritional deficiencies.
The formula includes B complex vitamins to contribute to normal energy-yielding metabolism, Korean ginseng, to promote endurance, virility and help the body to overcome stress, as well as antioxidant ingredients which could protect sperm and other body cells from oxidative damage. 
Directions for Use:
HealthAid MultiMax for Men capsules can be taken on a daily basis for general health, vitality and stamina.
Recommended Daily Intake for Multimax for men capsules:

Adults and children over 16 years of age, one capsule daily with food. Do not exceed recommended daily intake unless advised by a suitably qualified person.
Ingredients:
Each MultiMax for Men Capsule contains (average):
%NRV
Each MultiMax for Men Capsule contains (average):
%NRV
Vitamin A (5000iu)
1500µg
188
Vitamin D (400iu)
10µg
200
Vitamin E (15iu)
10mg
83
Vitamin C
60mg
75
Thiamin (Vitamin B1)
5mg
455
Riboflavin (Vitamin B2)
5mg
357
Niacin (Vitamin B3)
20mg
125
Vitamin B6 (Pyridoxine)
6mg
429
Folic acid
500µg
250
Vitamin B12
3µg
120
Biotin
150µg
300
Pantothenic acid (Vitamin B5)
5mg
83
Iron
15mg
107
Zinc
4mg
40
Iodine
300µg
200
Copper
2mg
200
Manganese
2.5mg
125
Selenium
22ug
40
Choline
24mg
*
Inositol
50mg
*
Dimethyl amino ethanol bititrate
20mg
*
DL-methionine
30mg
*
Standardised Korean ginseng extract
120mg
*
Ginkgo Biloba extract
30mg
*
NRV :  EC Nutrient Reference Value *:  EC NRV Not Yet Established

Emulsifier (rapeseed oil, rapeseed lecithin), Capsule Shell [gelatine, glycerol, purified water, natural colour (brown iron oxide)], Bulking Agent (di-Calcium Phopshate, yellow beeswax), Standardised Korean (Panax) Ginseng Extract, Magnesium Sulfate, Ascorbic Acid, Inositol, Choline Bitartrate, Ferrous Sulfate**, DL-Methionine, Standardised Ginkgo Biloba Extract, Niacinamide, DMEA Bitartrate, Zinc Sulfate, dl-alpha Tocopheryl Acetate (vitamin E), D-Calcium Pantothenate, Potassium Iodide, Manganese Sulfate, Pyridoxine HCl, Thiamine Mononitrate, Potassium Citrate, Vitamin A Palmitate, Cupric Sulfate, Riboflavin, Sodium Selenite Folic Acid, Ergocalciferol (vitamin D2), Cyanocobalamin (vitamin B12), D-Biotin.