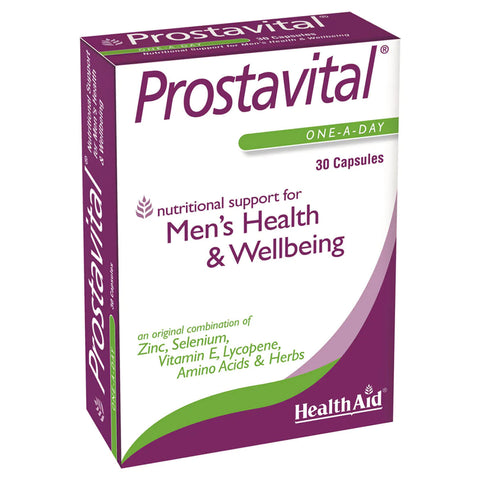 Pharmacareqatar
Health Aid Prostavital Capsule 30'S
Prostavital® capsules are specially formulated and carefully balanced to provide an original combination of Saw Palmetto, Nettle, Pygeum and Pumpkin Seed Oil, enriched with Vitamins, Minerals and Amino Acids. It contains Zinc which contributes to normal fertility and reproduction, testosterone levels in the blood, and Selenium which contributes to normal spermatogenesis. HealthAid ™ uses natural extracts from high quality sources.
Directions for Use:
Adult and children over 16 years of age, One capsule daily after food.  Do not exceed recommended daily intake unless advised by a suitably qualified person. 
Ingredients:
Each Prostavital Capsule contains (average):

%NRV

Each Proastavital Capsule contains (average):

%NRV

Vitamin E

60mg

500

Vitamin C

120mg

150

Vitamin B6

10mg

714

Magnesium

100mg

27

Zinc

25mg

250

Chromium

50µg

125

Copper

0.5mg

50

Selenium

50µg

91

Lycopene

3mg

*

L-Alanine

50mg

*

L-Glutamic Acid

200mg

*

Wheatgerm Oil

90mg

*

Pumpkin Seed Oil

200mg

*

Lecithin

100mg

*

Stinging Nettle 5:1 Extract (Ultra Diocia Root)

10mg

*

Saw Palmetto Berries 12:1 Extract (Serona repens berries)

30mg

*

Pygeum Africanum bark (Standardised extract; min 2% sterols)

5mg

*

*: EC Nutrient Reference Value Not Yet Established
Capsule Shell [gelling agent (gelatine), humectant (glycerol, purified water), natural colours (black, red & yellow iron oxides)], Pumpkin Seed Oil (cold pressed), L-Glutamic Acid, Magnesium Oxide, Vitamin C (ascorbic acid), Bulking Agent (soyabean oil, mono-and diglycerides of fatty acids), Lecithin (unbleached), Wheat Germ Oil (cold pressed), Vitamin E (dl-alpha tocopheryl acetate), Selenium Yeast, L-Alanine, Lycopene, Zinc Oxide, Saw Palmetto Standardised Extract, Vitamin B6 (pyridoxine HCl), Stinging Nettle Root Extract, Pygneum Africanum Bark Standardised Extract, Cupric Sulphate, Chromium Picolinate.