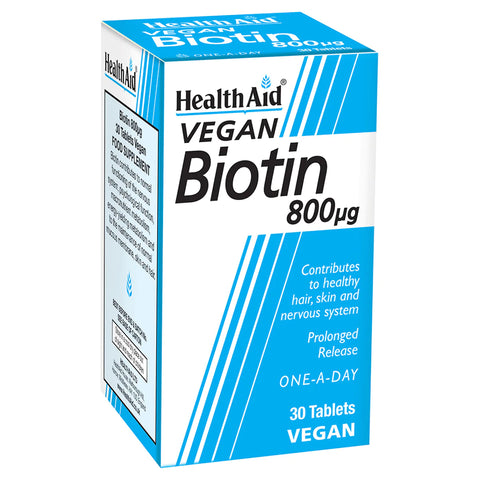 Pharmacareqatar
Health Aid Biotin 800Ug Tablet 30'S
Dull hair and sagging skin? The ageing process comes with a whole range of less than favourable beauty issues. There is good news, supplement your healthy diet with Biotin to support healthy skin, nails and hair. Biotin is especially known as a beauty vitamin. It thickens hair, increases elasticity and prevents dryness and breakage of the hair. It also helps to make keratin, a primary component of healthy hair. In addition, Biotin helps carry oxygen to the cells in the follicles, making them energised and healthy. This is one of the reasons why Biotin has been proven to be very beneficial in preventing hair from becoming brittle and dull. Biotin supports healthy skin growth.

Since regular Biotin supplementation may lead to Vitamin B5 (Pantothenic Acid) deficiency, HealthAid® Biotin 800μg Capsules are fortified with high strength Vitamin B5, which contributes to the reduction of tiredness and fatigue, to the normal mental performance, to energy-yielding metabolism, and metabolism of steroid hormones (sex hormones and adrenal hormones), thus promoting hormonal balance in both men and women. Like Biotin, Vitamin B5 also promotes healthy hair, skin and nails.
What are Biotin 800µg Tablets for?
Contributing to the maintenance of normal hair and normal skin
Contributes to normal functioning of the nervous system
Contributes to normal macronutrient metabolism
Contributes to normal psychological function
Contributes to the maintenance of normal mucous membranes
Recommended Daily Intake of Biotin 800µg Tablets:
Adults and children over 12 years of age, one tablet daily. Do not exceed recommended daily intake unless advised by a suitably qualified person.
Biotin 800µg Tablets are:
Free from added Sugar and Salt
Free from Corn, Gelatine, Gluten, Wheat, Starch, Dairy, Lactose, Soya, Nut
Free from added Artificial Colours, Preservatives & Flavourings
Suitable for Vegetarians
Food supplements should not be used as a substitute for a varied and balanced diet and healthy lifestyle. All and any changes to your diet and supplement regime should first be cleared with your personal medical professional. This description should not be taken as medical advice, a doctor should be consulted for any medical issues. Allergy information: For allergens, see ingredients in bold.
Each Biotin 800µg tablet contains (average):
%NRV
Biotin
800µg
1600

*: EC Nutrient Reference Value Not Yet Established

INGREDIENTS: Bulking Agent (di-calcium phosphate, microcrystalline cellulose), Anti-caking Agent (veg. stearic acid, veg. magnesium stearate), D-Biotin.