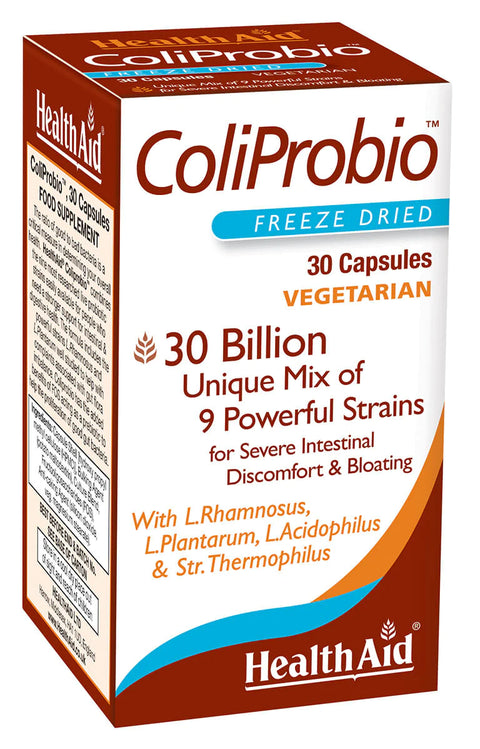 Pharmacareqatar
Health Aid Coli Probio 30 Billion Vegan Capsule 30'S
The ratio of good to bad bacteria is a critical measure in determining your overall health. There is evidence that many gastrointestinal ailments are caused by a poor balance of the intestinal microbiota.  
HealthAid® Coliprobio™ combines the nine most researched live probiotics strains easily accessible for people who need support for intestinal and digestive health. The Probiotic Blend in Coliprobio™ is a combination of lactic acid-producing bacteria such as Lactobacillus, Enterococcus, Streptococcus and Bifidobacterium. Coliprobio™ has the added benefits of FOS acting as a prebiotic to help the proliferation of good gut bacteria. 
Included are four strains of lactobacilli (Lactobacillus casei, L. plantarum, L. acidophilus and L. delbrueckii subsp. bulgaricus), three strains of bifidobacteria (Bifidobacterium longum, B. breve and B. infantis) and Streptococcus salivarius subsp Thermophiles. Some probiotics strains may help reduce the pathogen bacteria and yeasts in your gut, and some balance your intestinal PH. 
What are ColiProbio™ Capsules for?
Helping to restore a healthy bacterial balance in the gut

 

Helping to prevent the overgrowth of harmful yeasts and bacteria

 

Contributing to the maintenance of normal digestive function

 

Aiding the absorption of nutrients

 

Helping digest lactose in people who are lactose intolerant

 
Recommended Daily Intake of ColiProbio™ Capsules:
Adults: one capsule daily, preferably before breakfast. Can be increased to up to 3 capsules. Do not exceed recommended daily intake unless advised by a suitably qualified person. 
ColiProbio™ Capsules are:
Free from Dairy, Gelatine, Yeast, Gluten, Starch, Wheat, Soya, and Nut

 

Free from Artificial Colours, Preservatives and Flavourings  

 

Suitable for Vegetarians

 
Food supplements should not be used as a substitute for a varied and balanced diet and healthy lifestyle. All and any changes to your diet and supplement regime should first be cleared with your personal medical professional. This description should not be taken as medical advice, a doctor should be consulted for any medical issues. Allergy information: For allergens, see ingredients in bold. 
Each Capsule Contains (Average):

 Bifidobacterium breve
8,6 billion*
 Bifidobacterium infantis
3,4 billion *
 Bifidobacterium longum
3,4 billion*
 Lactobacillus acidophilus
2,2 billion*
 Lactobacillus bulgaricus
4,3 billion*
 Lactobacillus paracasei
7,7 billion*
 Lactobacillus plantarum
2,2 billion*
 Lactobacillus rhamnosus
2,2  billion*
 Streptococcus thermophilus
4,3  billion  *
 

Total cultures

30 billion*
 Fructooligosaccharide (FOS)
100mg
 * The stated bacterial count combination was incorporated at the time of manufacture. Due to the unstable nature of organisms, the live count may vary and may decline over time depending on temperature fluctuations and storage conditions.



NRV not yet established.