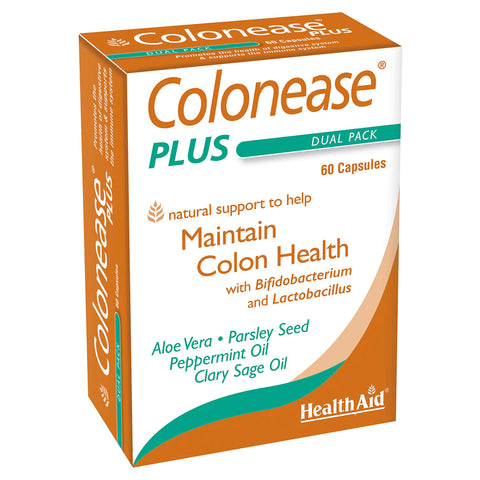 Pharmacareqatar
Health Aid Colonese Capsule 30'S
Unique formula with Aloe Vera, Peppermint, Probiotics and other natural ingredients to support health of entire digestive tract by helping ease bowel movement, promote colon cleansing, help combat indigestion, bloating and gas, and enhance the healthy balance of bacterial flora.
What are Colonease Plus capsules for?
Contribute to the maintenance of efficient digestion and absorption of nutrients from food
Assist in cleansing and detoxifying of the digestive tract
Beneficial to re-balance digestive tract after taking a course of antibiotics
Keep a vital balance between the beneficial and harmful bacteria within the intestines
Colonease Plus capsules are beneficial for:
People who wish to improve the health of the digestive system and general well-being
People who want to ensure the absorption of nutrients from food
Those feeling tired, lethargic and bloated
Those following a course of antibiotics
People with weak immune system
Recommended daily intake of Colonease Plus capsules:
Adults and children over 12 years of age, one capsule daily from each pack daily with food. Can be increased up to two capsules daily from each pack. Do not exceed recommended daily intake unless advised by a suitably qualified person.
Allergen Information: For allergens, see ingredients in bold.

** NO ADDED SUGAR OR SALT
** FREE FROM YEAST, GLUTEN, WHEAT & DAIRY
** FREE FROM ARTIFICIAL COLOURS, PRESERVATIVES & FLAVOURINGS
** Food Supplements should not be used as a substitute for a varied and balanced diet and healthy lifestyle.
Each Colonease Plus® capsules Contains (Average):

Aloe Vera Extract (200:1)   (equivalent to 5000mg Aloe Vera powder)

25 mg*

Peppermint Oil

5 mg*

Parsley Seed Oil

5 mg*

Clary Sage Oil

1 mg*

Each capsule contains (average):

(Lactobacillus acidophilus, Bifidobacterium lactis & Lactobacillus bulgaricus)

4 billion Δ

Fructo-Oligosaccharides (FOS)

100mg*

Δ - The stated enzyme blend and bacterial count was incorporated at the time of manufacture. Due to the unstable nature of the organisms, the live count may vary depending on storage conditions

.
*: EC Nutrient Reference Value Not Yet Established

INGREDIENTS FOR COLONEASE PLUS CAPSLUES:

Aloe Vera Extract:Bulking Agent [soybean oil, yellow beeswax, silica], Capsule Shell [gelling agent (gelatine), humectant (glycerol, purified water), natural colours (titanium dioxide, black iron oxide, sodium copper chlorophyllin)], Aloe Vera Gel Extract, Emulsifier [soya lecithin (unbleached)], Peppermint Oil, Parsley Seed Oil, Clary Sage Oil.

Culture Blend: Bulking Agent (microcrystalline cellulose), Fructo-Oligosaccharides (FOS), Capsule Shell [hydroxyl propyl methyl cellulose (HPMC), water], Probiotic Blend, Anti-caking Agent (silica, veg. magnesium stearate).