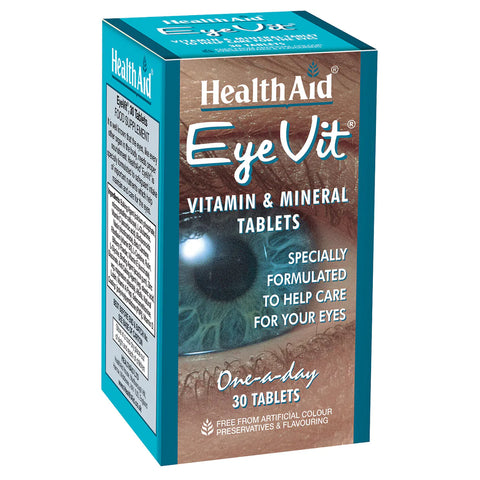 Pharmacareqatar
Health Aid Eye Vit Capsule 30'S
It is well known that the eyes, like every other organ in the body, need proper nourishment.  EyeVit Tablets by HealthAid are specially formulated to safeguard the intake of important nutrients which contribute to the maintanance of healthy eyes.
EyeVit Tablets may be of benefit to:
Those who wish to help keep the eyes looking bright and sparkling clean
People with blood shot eyes as it helps keep the eyes moist so that they do not dry up
Those who wish to prevent dark circles and bags under the eyes due to lack of sleep and the stress and strains of every day of life
Those who wish to enhance the integrity of the skin around the eyes, helping to reduce crows feet and wrinkles
Those who need to ensure proper nourishment to the eyes
Those who have been repeatedly exposed to smoke and sunlight
When Should I Take EyeVit Tablets?
EyeVit Tablets are recommended for all those who wish to maintain the health of their eyes. It is ideal for contact lens wearers, or those working long hours at a computer screen.
Recommended Daily Intake of EyeVit Tablet :
Adults and children over 12 years of age, one tablet daily with breakfast as a food supplement.  Do not exceed recommended daily intake unless advised by a suitably qualified person.

** Food Supplements should not be used as a substitute for a varied and balanced diet and healthy lifestyle.
** Free From Artificial Colours, Preservatives and Flavourings.
Each tablet contains (average):

 

%NRV

Vitamin A (2500iu)

750µg

94

Beta-carotene

3mg

*

Vitamin D (100iu)

2.5µg

50

Vitamin E (24iu)

16mg

160

Vitamin C

50mg

83

Riboflavin (Vit B2)

25mg

1563

Niacin

30mg

167

Zinc

1.4mg

9

Also provides:

 

 

Selenium

25µg

*

L-Glutamine

60mg

*

L-Cysteine

25mg

*

L-Glycine

20mg

*

Rutin powder

25mg

*

Bioflavonoids

30mg

*

Lutein (natural)

5mg

*

Bilberry powder

25mg

*

Alfalfa powder

5mg

*

NRV:  EC Nutrient Reference Value

*:  NRV Not Yet Established
INGREDIENTS:
Bulking Agent (calcium phosphate, microcrystalline cellulose), L-Glutamine, Vitamin C (ascorbic acid), Bioflavonoids, Niacin (nicotinamide), Beta Carotene, Riboflavin (vitamin B2), L-Cysteine, Rutin, Bilberry Powder, Vitamin E (succinate), L-Glycine, Binding Agent (acacia gum), Zinc Gluconate, Anti Caking Agent (veg. stearic acid, veg. magnesium stearate), Alfalfa, Natural Lutein, Vitamin A Prep, Selenomethionine, Coating: [polyvinylpyrrolidone (PVP)], Vitamin D.