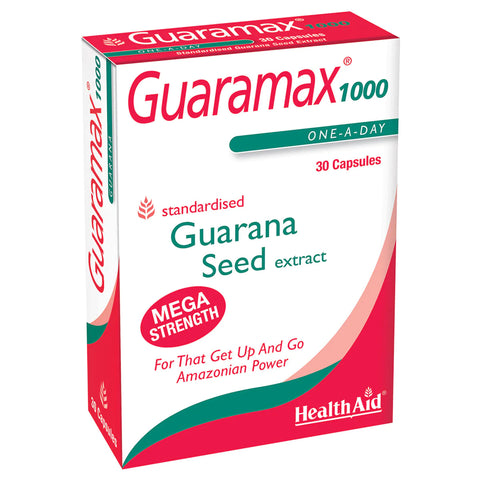 Pharmacareqatar
Health Aid Guaramax 1000Mg Guarana Capsule 30'S
Guaramax 1000 Capsules contain Guarana, also known as the cola of Brazil, and used extensively by natives of the Amazonian Forest for its well-known natural energizing properties. Guaramax 1000 Capsules  contain a highly concentrated Guarana seed extract supplement which provides a natural boost as well as the extra energy required by people who lead a demanding, active lifestyle.
Guaramax 1000 Capsules may be of benefit to:
People with low energy
People who wish to maintain healthy stamina and/or enhance their athletic performance
People who suffer from lack of concentration
People with a hangover from excessive alcohol intake
What are Guaramax 1000 Capsules for?
The main active constituents of Guarana are: caffeine and two closely related alkaloids called theobromine and theophylline. Caffeine is a well known stimulant, which provides a natural boost as well as the extra energy required by people who lead a demanding, active lifestyle. Guaramax® 1000 is a unique formulation which is manufactured to high pharmaceutical standards and provides a standardised amount of caffeine in each capsule. Its patented paste extract guarantees maximum absorption and utilisation


Recommended Daily Intake of Guaramax 1000 Capsules :
Adults, one capsule daily upon rising (can be increased to two per day if required).  It is advisable to take this product only for short periods of time.  Do not exceed recommended daily intake unless advised by a suitably qualified person.
** Allergen Information: For allergens, see ingredients in bold.

** NO ADDED SUGAR OR SALT
** FREE FROM GMO, YEAST, GLUTEN, WHEAT , DAIRY, ARTIFICIAL COLOURS, PRESERVATIVES & FLAVOURINGS
** Food Supplements should not be used as a substitute for a varied and balanced diet and healthy lifestyle.


 Each Guaramax Capsule contains (average):

 Guarana Seed 4:1 Extract  (standardised to 10% Caffeine)

 [Equivalent to 1000mg of Guarana Seed powder)

250mg

*: EC Nutrient Reference Value Not Yet Established

 INGREDIENTS FOR GUARAMAX 1000 CAPSULE:

Soybean Oil, Standardised Guarana seed Extract, Gelatine, Glycerol, Vegetable Shortening, Purified Water, Yellow Beeswax, Lecithin (unbleached), Natural Colours (Titanium Dioxide, Cochenille Red)

** Caution: This product contains caffeine. Please seek professional advice before taking this supplement if you are on prescribed medication, or suffering from high blood pressure.