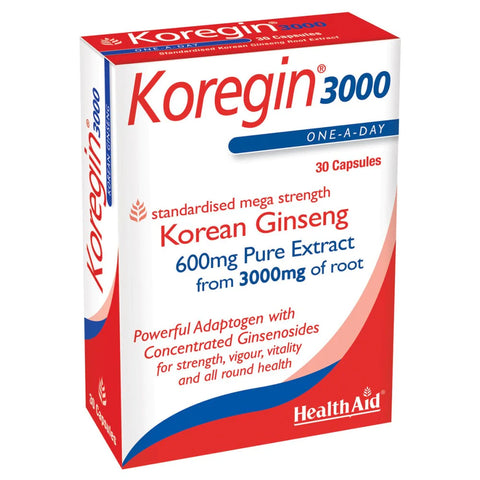 Pharmacareqatar
Health Aid Koregin 3000Mg Korean Ginseng Root Capsule 30'S
Ginseng is the most famous herb of East Asia, used by people worldwide for sustaining health. Korean Ginseng (also known as Panax Ginseng or Chinese Ginseng) is considered to be one of the herb wonders of the world. It originates from Northeast China and has been used for thousands of years. It is commonly used as a general tonic. Ginsenosides are compounds which are thought to be the main active constituents of Korean Ginseng. Koregin® 3000 capsules provide 600mg of the finest quality Panax Ginseng extract (equivalent to 3000mg of Ginseng root powder), which is standardised to 8% Ginsenosides. 
Directions for Use:
One capsule daily before breakfast. Wait 20 minutes before eating. Do not exceed recommended daily intake unless advised by a suitably qualified person. 
Ingredients:
Standardised Korean Ginseng Extract, Bulking Agent (soybean oil, vegetable shortening, yellow beeswax), Capsule Shell [gelling agent (gelatine), humectant (glycerol, purified water), natural colours (titanium dioxide, brown, yellow, black iron oxides)], Emulsifier [lecithin (unbleached)].