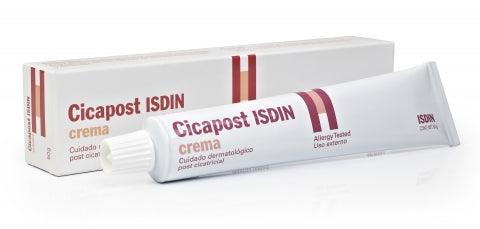 pharmacareqatar
Isdin Cicapost Cream 50G
Indicated for the dermatological care of post-scar cutaneous areas.
Directions for Use:
Apply 3 times a day to cleansed skin, lightly massaging until completely absorbed. Do not apply to open wounds.
Benefits:
Rosehip oil and vitamin E acetate help to repair scar tissue. Its formulation with Centella Asiatica triterpenes and glycerin helps to improve elasticity. Dexpanthenol helps to mitigate pigmentation and itchiness and strengthens the barrier action.
Ingredients:
Rosehip oil and vitamin E acetate. Centella Asiatica triterpenes and glycerin. Dexpanthenol. Niacinamide. Sodium dextran sulfate