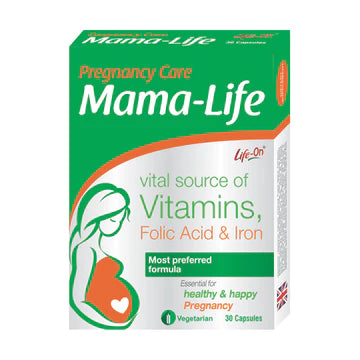 Pharmacareqatar
Life On Mama-Life Capsule 30'S
Vital source of Vitamins to be taken before, during and post pregnancy.
Ingredients: 
Ferrous Fumarate, Magnesium Oxide, Vitamin E Succinate, Vitamin B3 (Nicotinamide), Zinc Oxide, Vitamin B6 Pyridoxine Hydrochloride, Vitamin C Powder (Ascorbic Acid), Vitamin B-12 (Cyanocobalamin), Vitamin B5 (Calcium D-Pantothenate), Vitamin D3 (Cholecalciferol), Vitamin B1 Thiamine, Vitamin B2 Riboflavin, Folate (Folic Acid).
Directions for Use: 
Take one capsule daily with your main meal or as directed by your healthcare professional. Do not exceed the recommended intake. Women who are pregnant or planning a pregnancy or lactating should consult their doctor before taking this supplement. Food supplements are intended to supplement the diet and should not be regarded as a substitute for a varied diet and lifestyle.