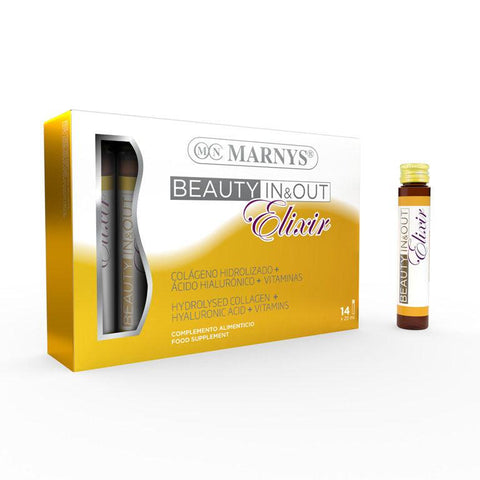 Pharmacareqatar
Marnys Beauty In & Out Elixir 14 Vials 25Ml/Vial
Manny's Beauty In & Out Elixir is a food supplement specially formulated to preserve the skin's youthful texture and appearance thanks to the synergy of its ingredients. Enhances beauty from the inside out with skin-friendly ingredients.
High content of hydrolyzed collagen type I, which leaves skin bright, firm and elastic (1).

Maintains healthy hair, youth, skin and nails.

An easy-to-digest drinkable bottle to be taken once daily.
The Beauty In & Out Elixir is ideal for those periods when you need to boost your vitality due to: seasonal changes, high stress, excessive sun exposure, in skincare treatments, hormonal changes...
Vitamin 

C

 promotes the normal formation of collagen for normal skin function.

Zinc

 and 

biotin

 contribute to the maintenance of normal hair conditions.

Zinc

 , 

biotin

 and 

riboflavin

 participate in the maintenance of normal skin conditions.

Zinc helps maintain the normal condition of nails.

Vitamins

 C, B5, B2, B12, B3, and B6 help reduce tiredness and fatigue .

Vitamin E

 contributes to the protection of cells from oxidation.
Directions for Use:
One vial daily in the morning.
Ingredients:
Hydrolyzed Type I Collagen, Hyaluronic Acid, Grape Seed (95% OCP), Vitamin B Complex, Vitamins A, C, E and others. The synergy of these ingredients allows to restore skin texture and maintain its youthful appearance.