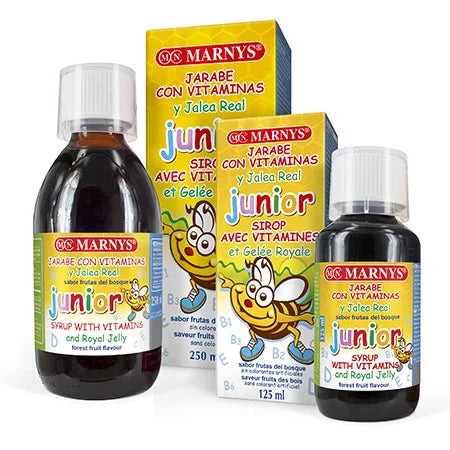 Pharmacareqatar
Marnys Junior Syrup 125ML
MARNYS® JUNIOR Syrup is a Multivitamin syrup with Royal Jelly, 12 vitamins and a pleasant forest fruit flavour that supplements the diet, especially in children and teenagers during their growth period.
Growth and development in children involves a dynamic and evolutionary vision: the body increases its number of cells and the functional capacity of systems, such as the neural, bone, immune and hormone systems.
MARNYS® JUNIOR Syrup is recommended for children over 5 years of age, teenagers and adults. Thanks to its ingredients and formulation, this product provides vitamins, defences and energy for children and teenagers during their growth period, physical activity and physiological changes.
Directions for Use:
Children 5 to 12 years of age: 5ml a day.
Teenagers and adults: 10ml a day.
Shake well before use. 
Ingredients:
Fructose syrup, royal jelly, vitamin C, niacin, vitamin E, pantothenic acid, vitamin B6, riboflavin, thiamine, vitamin A, folic acid, biotin, vitamin D, vitamin B12, preservative (potassium sorbate) and flavour (forest fruit).