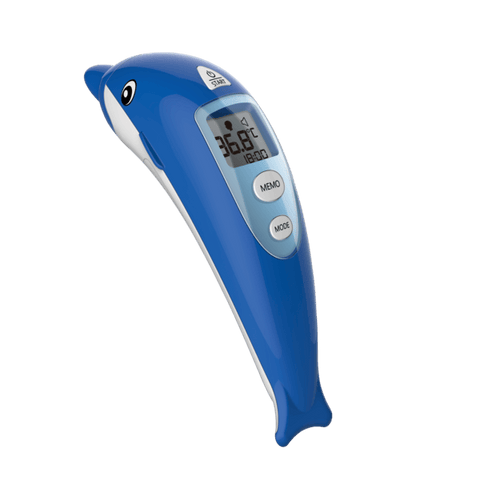 Pharmacareqatar
Microlife Child Non Contact Thermometer - Nc 400
The new Microlife non-contact thermometer NC 400, further to it's reliability, accuracy, and easy handling, allows gentle and non-invasive measurement of body temperature without touching the patient. The unique dolphin design was specifically developed to make a measurement more pleasant for children.
SPECIFICATIONS:
Model no.: NC 400
Size: 167 x 46 x 44 mm
Weight: 104 g (with battery), 81 g (w/o battery)
Measuring range: 0 - 100.0 °C
Measurement accuracy: ±0.2 °C between 36.0 and 42.0 °C
Battery: 2 x 1.5 V alkaline batteries, size AAA


Touch-free measurement in only 3 sec.
Multifunctional (body, object and ambient temperature)
Blue tracking light - for easy use also at night
Clinically tested and recommended by doctors
Illuminated fever alarm "Silent Glow™ technology"
Fever alarm
Large illuminated display with date and time
30 data memory (stored with date/time)
Sound control – silent mode option for measurements at night
Storage bag