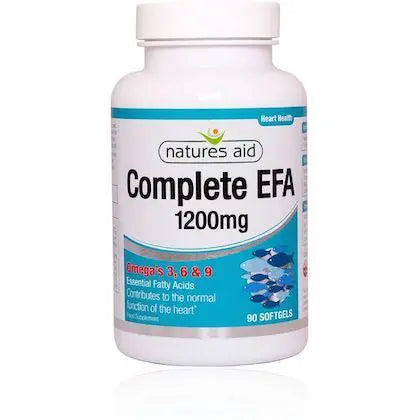 Pharmacareqatar
Nature'S Aid Complete Efa 1200Mg Omega 3 6 9 Capsule 90'S
Combines Fish, Flaxseed & Starflower Oils
The rise in 'fat free' or 'less than 5% fat' foods has come about dur to the negative connotations surrounding the intake of fat in the diet. However, although it is true that our diets should not supply us with more than 30% of our calories as fat, there are certain fats that our bodies need to maintain good health. These essential fatty acids (EFAs) such as Omegas 3 and 6 cannot be made by our bodies. Omega-3 and Omega-6 are key components of nerves cells, cell membranes and prostaglandins (hormone like substances). Many modern diets are typically lacking in these EFAs and many people choose to top-up by supplementing.
Our Complete EFA is sourced from small oily fish; Anchovies, Sardines and Pilchards from the South Pacific Ocean. We use only fish oil that have been molecularly distilled for purity, balanced with cold-pressed Flaxseed Oil and cold-pressed Starflower Oil. Our carefully crafted formulation contributes to the normal function of the heart with the beneficial effect obtained with a daily intake of 3 softgels.  DHA from our fish oil also contributes to the maintenance of normal brain function and vision.
Directions for Use:
Take 1-3 capsules per day with food. Do not exceed the recommended intake.
Ingredients:
Starflower Oil (Borage Oil), Pure Fish Oil, Flaxseed Oil (Linseed Oil), Gelatin (bovine), Glycerine.