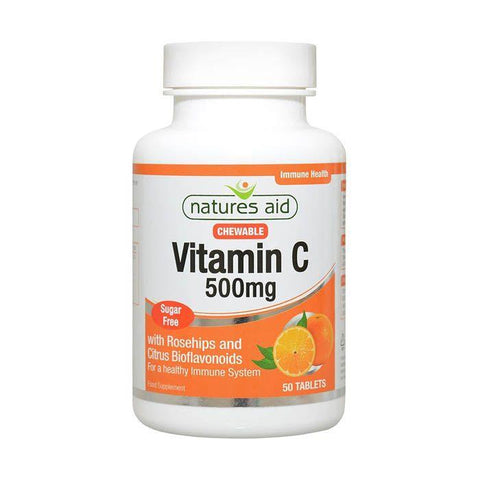 Pharmacareqatar
Nature'S Aid Vitamin C 500Mg Sugar Free Chewable Tablet 50'S
A handy, chewable Vitamin C tablet with Rosehips & Citrus Bioflavonoids
Vitamin C is a well-known and important nutrient which can help to support the immune system.  However, Vitamin C also plays many other important roles in supporting your health.  Vitamin C contributes to the normal formation of collagen, which in turn helps to support healthy skin, bones and cartilage. It also plays a role in supporting the normal functioning of the nervous system and healthy psychological function.
To ensure your body maintains healthy levels of Vitamin C a balanced diet is key; some of the richest food sources of Vitamin C are oranges, sweet potato, peppers, sprouts, cauliflower and mango. For those who worry that their diet may fall short, supplements can provide a simple and convenient way to 'top up' your Vitamin C levels.  Supplementing your Vitamin C intake can also be helpful for those who exercise regularly as taking an additional 200mg Vitamin C daily can help to maintain the normal function of the immune system during and after intense physical exercise.
At Natures Aid, our Vitamin C 500mg Chewable has been carefully designed by our in-house nutritionists to provide your body with 500mg Vitamin C per tablet. This convenient chewable format is ideal for those who struggle to swallow larger pills. Our delicious chewable tablets are also vegan friendly and contain no added sugar. Formulated without any artificial flavours or colourings, our handy chewable tablets instead have a fresh and zingy natural orange flavour. What's more, you can rest assured that our Chewable Vitamin C tablets are also free from GMO, dairy, gluten, soya and nuts.
Simply suck or chew 1-2 tablets each day, as required, and enjoy an easy and pleasant way to top up with Vitamin C to support your health and wellbeing in so many different ways.
Directions for Use:
Chew or suck 1 or 2 tablets per day.
Do not exceed the recommended intake
Ingredients:
Sweetener (Sorbitol‡), Vitamin C (as Sodium Ascorbate, Ascorbic Acid Prep. [Ascorbic Acid, Hydroxypropylmethylcellulose]), Citrus Bioflavonoids, Natural Orange Flavour (Orange Oil, Modified Starch), Anticaking Agents (Silicon Dioxide, Vegetable Source Magnesium Stearate), Rosehip Extract (Rosehip, Maltodextrin, Silicon Dioxide), Acerola (Acerola, Maltodextrin), Stevia Leaf Extract.