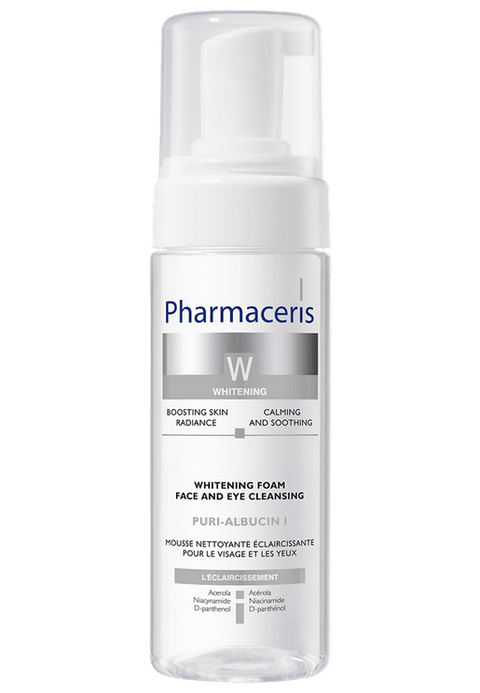 Pharmacareqatar
Pharmaceris Puri Albucin Foam 150Ml
Gentle foam is recommended for daily cleansing of the face and eye area.
Replaces traditional soap.
Directions for Use:
Dispense a blob of the whitening foam into the palm and wash your face using circular motions.
Rinse with water. Follow with Pharmaceris W face toner and appropriate cream.
Use daily in the morning and at bedtime.
Best results within Pharmaceris Whitening complete program.
Ingredients:
Acerola extract – an antioxidant that protects the skin from the detrimental effects of environmental aggressors. It strengthens blood vessels and boosts skin cell renewal, at the same time reducing any redness.
Vitamin PP (Vitamin B3, Niacinamide) – is a potent moisturizer that penetrates to deep skin layers and replenishes lipids. It protects the epidermis and promotes its regeneration. It prevents the feeling of taut skin.
Glucam® – strongly binds moisture and maintains its optimum level in the epidermis for a long time. It smoothes out the skin and restores lost firmness and elasticity.
D-panthenol – has a soothing and calming effect, and makes the skin less prone to hypersensitivity reactions.
Milk thistle extract – a rich source of silymarin that has a strong radical-scavenging and anti-inflammatory effect. It protects the skin from harmful UV radiation. It promotes and accelerates the regeneration of damaged skin.