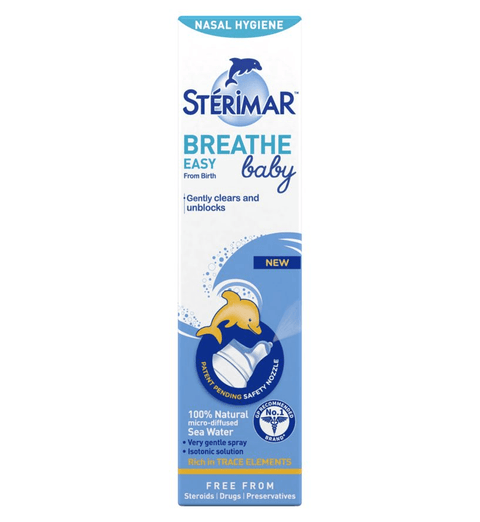 Pharmacareqatar
Sterimar Baby Nasal Spray 0-3Yrs 50Ml
Sterimar Breathe Easy Baby. 100% Natural Sea Water based nasal spray with NEW Patented safety nozzle with an ergonomic shape and non-slip comfortable coating surafce to ensure an easy and stress free application every time.

Using the experience of the sea and trace elements, Sterimar has developed a specific product for babies.

Sterimar Breathe Easy Baby is a medical device and is recommended for cleaning your baby's nose.

On a daily basis:


Clears mucus from baby's nose to help with breathing and bottle feeding.
Stimulates the natural defences of the nasal lining.
Assist with ENT disorders.
With a specially designed nozzle and very gentle pressure and microfine spray.
Composition
Sterimar baby is an isotonic* filtered sea water solution, 100% natural and free from preservatives. It provides the beneficial properties of mineral salts and marine trace elements.
*Isotonic solution: a solution that contains the same concentration of salt as that of the human body cells.
Approximately 150 doses.
Suitable for
Children between 0 to 3 years of age.
How to use
Always read the product information before use.

Recommended use:

Sterimar baby is recommended for daily cleansing of baby's nose.

Prime the spray by briefly pressing the nozzle.

Lay baby down on his/her side or sit up with baby's head tilted to one side.


Gently insert the nozzle into the nostril.
Press the nozzle briefly-let any excess solution run out before wiping the nose.
Repeat the operation in the other nostril.
Clean the nozzle with soapy water, rinse and dry.
Use 2 to 6 times a day or more if required in each nostril.
Hazards and Cautions
Pressurised container with an inert gas (nitrogen). The solution is held witjin an inner container and does not come into contact with nitrogen. Pressurised container, do not expose to sunlight. Do not pierce or incinerate, even after use. Aseptically packed.

Keep out of the reach of children.
Ingredients
Sea water: 31.82ml