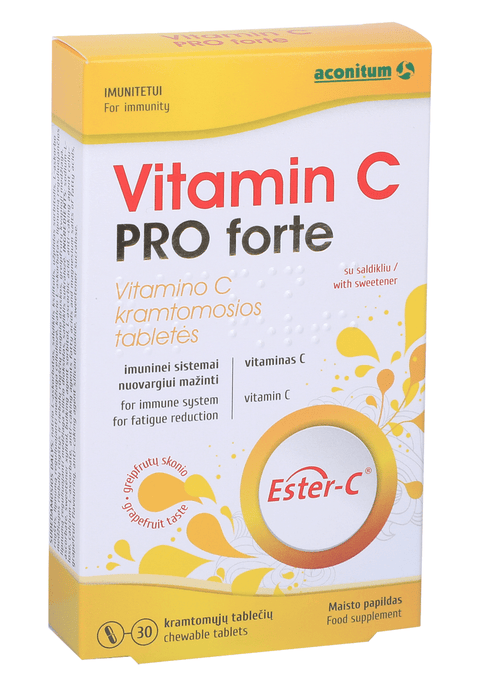 Pharmacareqatar
Vitamin C Pro Forte Chewable Tablet 30'S
Food supplement
Package: 30 chewable tablets
Contains long-acting, patented vitamin ESTER-C®. This is a unique form of vitamin C that lasts longer in the body than regular vitamin C.
         

Vitamin C contributes to the normal function of the immune system.

         

Vitamin C helps to reduce tiredness and fatigue.

         

Vitamin C helps to protect cells from oxidative stress.
 Directions for Use:
Chew 1 tablet a day.
This is not a food substitute.
Do not exceed the stated recommended daily dose.
Do not store above 25 °C.
Keep out of the reach of children.
Balanced and varied diet and healthy lifestyle are important.
Ingredients:
Sodium L-ascorbate, sweetener xylitol, bulking agent sorbitol, L-ascorbic acid, anti-caking agent cellulose, calcium L-ascorbate (Ester-C®), anti-caking agents: fatty acids and magnesium salts from fatty acids, grapefruit flavouring, anti-caking agent silicon dioxide, sweetener sucralose.